Vision
The vision of "Kalrav" is to create and provide equal and inclusive opportunities for the mentally disabled children thereby to educate their parents and the whole society to live life utmost respectfully. We are sure; sojourn is tough but will instill a sense of confidence in them to face-lift the life with courage, confidence and competence....
Welcome To
The problem of disability is gaining more and more ground all over the world. In India 3% of India's children are mentally or physically challenged. More than 95% are living life of obscurity and are denied the opportunity to be in the main stream. Disability either physical or mental is a human right issue and it must be looked into that context. Many institutions are engaged in rehabilitation and education of mentally challenged children. In its humble endeavor to extend inclusive developmental opportunities to the ignored special children of the Bharuch District, Kalrav Charitable Trust spearheaded the Kalrav School for special children.
Kalrav School for mentally challenged was set up in the Year 1992. The sojourn was started with five such children and today more than 85 children are lucky enough to exhibit their intrinsic strength to the society.
Today "Kalrav" is engaged in the activities of:
Extending general / day-to-day knowledge to mentally challenged children
Extending vocational training to generate income
Training for Yoga
Extending physiotherapy treatment to the needy children in in-house Physiotherapy Centre
My Humble appeal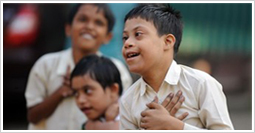 "The first thing you need to do is to train yourself not to use the phrase "Mentally retarded". Use the term "People with intellectual disability". Put the "People" First. That will be the best thing you can start doing because using such a language will enhance my dignity as a person and will make me feel respected as a human being.